Skip to Content
Tips for Planning Your Next Home Renovation in South Denver, CO
So, you've finally decided to renovate your Denver-area home to increase your curb appeal and add some much-needed space. This is an exciting, albeit confusing, process for many homeowners. GRC Builders LLC would be more than happy to walk you through the home remodeling process from your initial design to the final construction.
Home remodeling projects may seem overwhelming, but there are some things you can do to prepare yourself for your remodel. Making your product selections early in the process can help you keep the project on budget.
During the design process we will help you to select the products and finishes that are needed to complete your project in a timely manner. We encourage you to bring all of your design ideas to us which will allow us to assist you in determining tastes and preferences. You can review some of the products available to you below. We also offer consultation with well-informed creative designers for you to work with.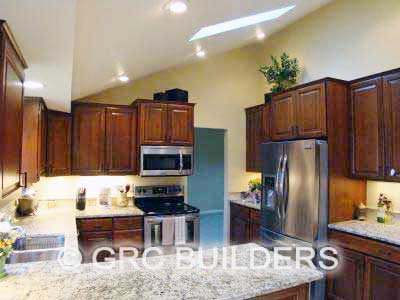 Quality Products to Remodel Kitchens, Baths, and More
Whether you're remodeling your kitchen, bathroom, basement or home additions, we use high-quality appliances, fixtures, flooring, cabinets, countertops, and more from many of the industry's leading manufacturers, including KitchenAid®, General Electric, Whirlpool®, Corian®, Armstrong®, Kohler®, and Moen®. You can proudly show off your selections to your friends and family using the links below.
However, in many cases, you may not need to visit our showroom at all. Some customers are more comfortable selecting products online after comparing the manufacturers' specifications, while others rely on our many years of expertise to choose the right products on their behalf. Whatever category you fall under, our well-informed, creative Team strives to accommodate your needs!
Review or Compare Our Home Renovation Products
Below, you'll find a few helpful links to aid in your product selection for your next home renovation. Please Note: Not all of the selections presented here will be available or tested in the Denver area:

Breathe New Life into Your Home – Request a Free Estimate Today!