Skip to Content
GRC Process for Kitchen, Bath, and Other Remodels
We all know how overwhelming kitchen, bathroom, basement or home addition projects can feel to the average homeowner. However, when you rely on GRC Builders LLC to complete your project in Centennial, you can count on us to take some of the stress out of home remodeling. From your project's initial design to its final construction, we streamline the home remodeling process as much as possible.
We've all probably heard the familiar expression, "Too many cooks spoil the broth." Well, the same can be said for home remodeling projects. Because we're a fully disciplined construction company, WE are responsible for the entirety of your project, providing many valuable services, such as soil testing, engineering, structural engineering, design, and construction, to eliminate the need for other contractors. Enjoy peace of mind by working with GRC BUILDERS from start to finish!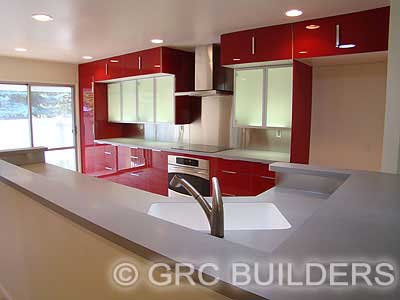 Whether you already have a great design concept in mind for your next home remodel or you'd like to rely on our award-winning designs perfected for over 35 years, we can accommodate you. When you call us to request your initial design consultation, we'll come out to your home to determine all your current and future needs. Think of the design phase as a fact-finding mission. The more adequately you plan and prepare for the construction, the more likely it is that your project will meet your budget and schedule requirements.
Thanks to Colorado's unique climate, we're capable of providing construction services for home remodels and additions year-round with minimal disruptions to your routine. Our company is licensed and insured, and so are ALL OF the craftsmen we work with on a regular basis. For your peace of mind and protection, we'll provide all the necessary permits and inspections required. Thanks to our meticulous attention to detail and quality control program, you can rest assured that we'll never sacrifice quality to meet project deadlines. The amount of time needed for the construction phase will vary depending upon your project's specifics.
Renovating your home is likely to be one of the biggest purchases you'll ever make within your lifetime. As such, it's an investment that you want to pay off for you in the long term. Whether we're remodeling your kitchen, bathroom, basement or home additions, GRC Builders LLC provides complete one-year warranties on all labor and materials for home remodeling projects of all sizes. You can rely on our years of expertise to help you determine the feasibility of your proposed remodeling project. If we don't think your project can be completed according to your proposed budget or timeframe, we'll be sure to voice our opinions upfront, so you have fewer unexpected surprises.
Breathe New Life into Your Home – Request a Free Estimate Today!