Skip to Content
Who We Are
GRC Builders was founded by Randy and Lisa Shelton in 1990. Randy Shelton is the son of a prominent Denver Home Builder and as such has had the unique opportunity to work his way up through the trades, obtaining hands on experience in the industry and went on to earn a Degree in Business Administration. Prior to GRC Builders he has held management and executive positions for several local and national homebuilders. Lisa Shelton has an Interior Design Background, a Degree in Fine Arts and studied Art History and Architecture at the Institute of European Studies in Vienna, Austria. Prior to GRC Builders she worked with several major Architectural / Design Firms in the Denver area. Many of our clients have found it very appealing to have these two different approaches on their design build project team.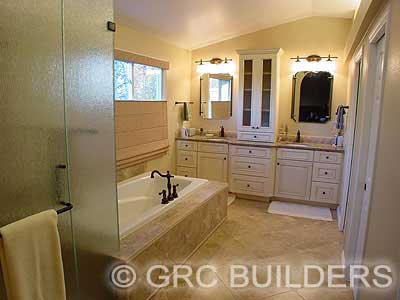 Our Values
GRC Builders was created out of a desire and commitment to create quality Custom and Remodeled homes through our intense dedication to detail and proper planning. We have designed a truly unique set of systems and procedures that ensure that proper attention is given to the details and that your project is completed in the quality and manner desired. We strive to provide you with the atmosphere and lifestyle you desire within your specific budget parameters. We work with every client to make certain that his or her expectations of quality; value and personalized service are surpassed. From plan design through warranty service, it's a system that has established a large base of satisfied customers.
It is easy to understand why such a high percentage of our business comes from client referred work and why so many of our craftsman and suppliers use GRC Builders, LLC to do work for their family and friends.
Understanding Your Options
The decision to build a Custom home or Remodel your existing one will be one of the most important decisions a family can make in their lifetime.
People generally decide to remodel an existing home over purchasing a new home for a variety of reasons. These may include proximity to work, family and friends in the neighborhood, familiar shopping, your church and school system, recreation or just feeling comfortable in your existing home. In any event, there has been a change in your lifestyle or your wanting to update and you've found yourself thinking of the special features and custom modifications you could make to transform your house into the perfect home for your family:
Home offices, new bedrooms or sunspaces
Luxurious Master suites with steam showers, saunas or jetted tubs
Media rooms, exercise rooms and game rooms with wet bars
Spacious, fully appointed Kitchens
Or that extra garage
These ideas can happen in a variety of ways to an existing home: from basement finishes, to room additions, whole house remodels, to popping the top… just let your imagination go and chances are we can do it for you. However, existing homes cannot always accommodate the changes you want or perhaps you desire a new lifestyle that only a Custom Built Home can provide.
Whatever your reasons for Building a Custom Home or Remodeling, we can be involved from helping you define your needs: Complete design work, Quality construction techniques, assistance with coordination of interior finishes, up to providing you with a complete warranty package.
We understand just how critical it is for you to carefully select your Builder with all that it involves, from a livable design through quality construction techniques, since these issues will directly influence the ultimate value of what you receive. With this in mind we have put together a description of our process…of what you can expect when we work for you. We hope this will answer some of the questions you may have about our unique Design / Build process and about us.
Certified GREEN Professionals™
The National Association of Home Builders Certified Green Professional™, designation recognizes remodelers who have undergone the proper Certified Green Professional tm training and can incorporate green building principals, environmental considerations and resource efficiency into the building process. This process can result in increased comfort, lower utility bills, increased value, and more sustainable and practical homes for our customers and the environment. Along with our CAPS certification we are able to bring a whole house approach to our projects. This allows us to build an efficient, more comfortable, safer and more sustainable home.
Certified Aging In Place Specialists (CAPS)
We are CAPS certified, which is a continuing educational certification and training designed to meet the unique needs of our older adult population and others with special needs. This training allows us to better assist our clients in living in their home safely, independently and comfortably, regardless of age or ability level. The CAPS designation is a reliable way to identify Professionals to modify your home. Universal design can be accessible and stylish.
Breathe New Life into Your Home – Request a Free Estimate Today!